We're lucky to live in some of the best mountain bike territory in the country.
Even if does get a bit muddy in the winter, some of the descents here are quite 'technical' (a.k.a. exhilarating) and the scenery is spectacular.
Many local routes are well known, such as the South Downs Way, but here are a few lesser known short-ish routes mostly starting from Fulking. For those looking for a longer outing, some of these routes can be added together.
More routes will be added in due course, but please send your favourites to webmaster@fulking.net.
Cautionary note: All routes are 'legal' i.e. bridleways or permitted roads/paths as far as known. Please take care, ride within your ability and behave responsibly towards other bridleway users, especially horseriders.  
Nettledown – Truleigh Hill Loop
(1 hr 10 min)
A reasonably flat ride to start with, followed by a climb (or walk) up Truleigh Hill with great views on the way back.
Devils Dyke Loop
(1 hour)
The highlight of this is the fast descent on the side of the Dyke.  If you're enthusiastic you can put an extra mini-loop in and do the other side, which brings you out at the Royal Oak for refreshment…
Newtimber Hill Loop
(1 hour 45 mins)
Useful if you need to get the paper or anything else from the M&S at the BP garage in Pyecombe (open 24/7) in Pyecombe.  Views as always are fantastic and there's an interesting descent down Newtimber Hill.  Why not stop at the Hiker's Rest café at Saddlescombe Farm on the way back – if it's open…
Shoreham Airport by the River
(About 30 mins each way)
This is an ideal relaxed gentle ride, which is completely flat and has a destination which could be a coffee and snack or a full-on lunch at the   …er 'Brighton City Airport' restaurant, better known as Shoreham airport café. On the way back you can detour to Lancing College and look at the amazing gothic chapel.  The easiest way to do this, especially if children are involved, is to drive to the layby on the Shoreham road which intersects the South Downs Way (see map). If its a sunny day and you have a bit more time available you can continue on through the airport to Shoreham Beach and ride along the cycle/walk way towards Worthing, possibly stopping for further refreshments at newly refurbished Lancing Beach Café.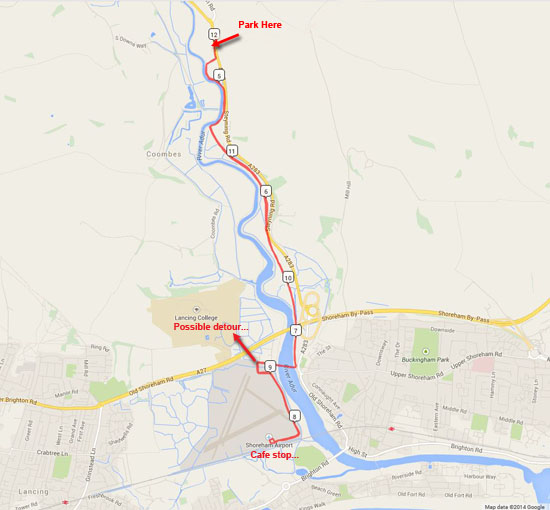 If you're feeling energetic then you can ride from Fulking (see below). It will take around two hours and its definitely not flat, but the views are great!

Organised MTB Routes
Evans, the national cycle 'chain', runs organised off-road rides all over the country under the Ride IT banner. The last one in Brighton was actually around Fulking and was highlighted on the website earlier in 2014. They cost about £30 to enter. For that you get maps, mechanics and a choice of ride distances.
Mapping Sites
Many more routes can be found on the leading sites that collect uploads from GPS devices. They are Strava and RideWithGPS. Usually you can browse these without having to join up.  They're particularly interesting for routes around Steyning / Cissbury Ring or Ditchling and Falmer.  Or you can just Google MTB routes…
Downhill, Freeride and Prepared Trails
There are many 'prepared' trails just a short drive away throughout Sussex – some are even officially supported by local authorities.  These are mostly downhill, singletrack trails which have additional banking, jumps and obstacles to make life more interesting on a mountain bike.  Like skiing, they are often ranked green, red or black in terms of skill required – which means that you don't have to an expert to try them.  The best guide is South East MTB, which has a special page for Sussex rides.