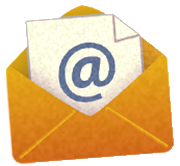 The village mailing list is used to alert you of parish council news and news of more immediate issues such weather events, road closures, lost pets, village social events, etc.
If you would like to be kept up to date in this way then please join the mailing list.
All you need to do is send a blank email to
"village-subscribe@fulking.net".
In return, you will be sent an email asking you to confirm that you want to be added to the mailing list. Simply reply to the email and keep the subject line exactly as it was when it was sent back to you – the robot that will read your reply will ignore it if you make any change to that part of the email.